---
MAZEL SKULL CAP CORP.
5621 20th Ave 3rd flr.
Brooklyn, N.Y. 11204
1-888-KIPPAHS
(1888-547-7247)
Fax 718-972-1726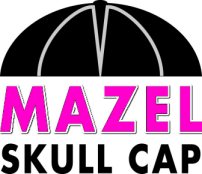 New Address:
5621 20th Ave 3rd flr.
Brooklyn, N.Y. 11204
1-888-KIPPAHS (1-888-547-7247)
or 718-435-3288

Yarmulkes for All Occasions

Established over 25 years ago Mazel Skull Cap has become the leader in providing quality kipot for that special occasion. Our full line of skull caps are manufactured directly on premises enabling a smooth and hassle free experience for all our custom orders.

In addition we supply Benchers, Zemirot, and other items which will enhance any affair.

Everything is imprinted ( including monograms and emblems) to mark that special occasion:

Weddings

Bar & Bat Mitzvahs

Dinners, etc.

We specialize in social events of schools, synagogues, organizations. With our beautiful custom imprinting we help make each one a memorable affair.

Our yarmulkes are available in velvet, suede moiré, satin, and genuine suede & leather. Satin kippahs are done in six parts with matching buttons. We use gold or silver trim if desired on any of the above.

We are sure you will find our prices reasonable and our service reliable.

We ship via UPS nationwide. We handle all rush orders. Our order delivery time is generally 3-4 weeks.